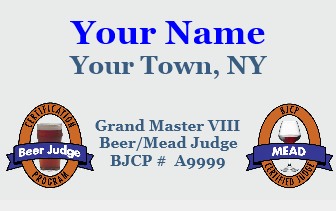 Who can get a badge? 
As a service to members, the BJCP will pay for a name badge to be worn at competitions and other BJCP events. Members are eligible to order or reorder badges under the following circumstances: 
After passing an exam for the first time and becoming a new BJCP member
After a promotion in rank or earning of an additional endorsement (e.g. mead or cider)
After moving to a new city
Members who have lost or damaged their badge can contact Assistant Communication Director Toby Guidry to discuss a replacement. 
How can I order a badge?
Badges can be ordered via the judge portal Badge Ordering Form. Please note that we submit bulk orders to our badge vendor every 1-2 months, so your badges may take several months to arrive. Shipping outside of the United States takes longer. You should receive an email from QuickIDCard when your badge ships with a tracking number. If you have not received your badge within three months of submitting the order form, contact the Assistant Communication Director.
IMPORTANT: When completing the badge order form, please verify that your name and address are correct. You may edit your name and hometown directly on the badge order form. If your address is incorrect, you will need to submit a change of address form through your judge account. 
Judges outside the United States: Please edit the hometown field on the badge order form to match what you would expect to be displayed. Our current database does not always display non-US locations correctly. 
What are the badge options?
Two attachment options are available: a traditional clasp and a two-piece magnet. 
The traditional clasp is removable and will come with a badge that has a hole punched out for the clasp. If you would like to put your badge in a wallet, you should order your badge with the removable clasp. If you would like to use your badge with a lanyard, you should also order your badge with the clasp option. 
The magnet option comes with a two-piece magnet. The magnet may need to be adhered to the badge upon arrival using the peel-and-stick adhesive already on the magnet.